Installing EasyCart FREE Edition
If you are looking for how to install EasyCart PRO or Premium edition, please click here
WP EasyCart is available for download from the WordPress plugin repository. The plugin is available for FREE, with the option to upgrade to the professional version. Professional users get support, extensions, and extra features that are not accessible in our FREE version.
We also have a full 10 part video series as well as many other wonderful videos if you are visual and like to see someone walk you through the process. It's very easy!
Video Guide – Installing the FREE Edition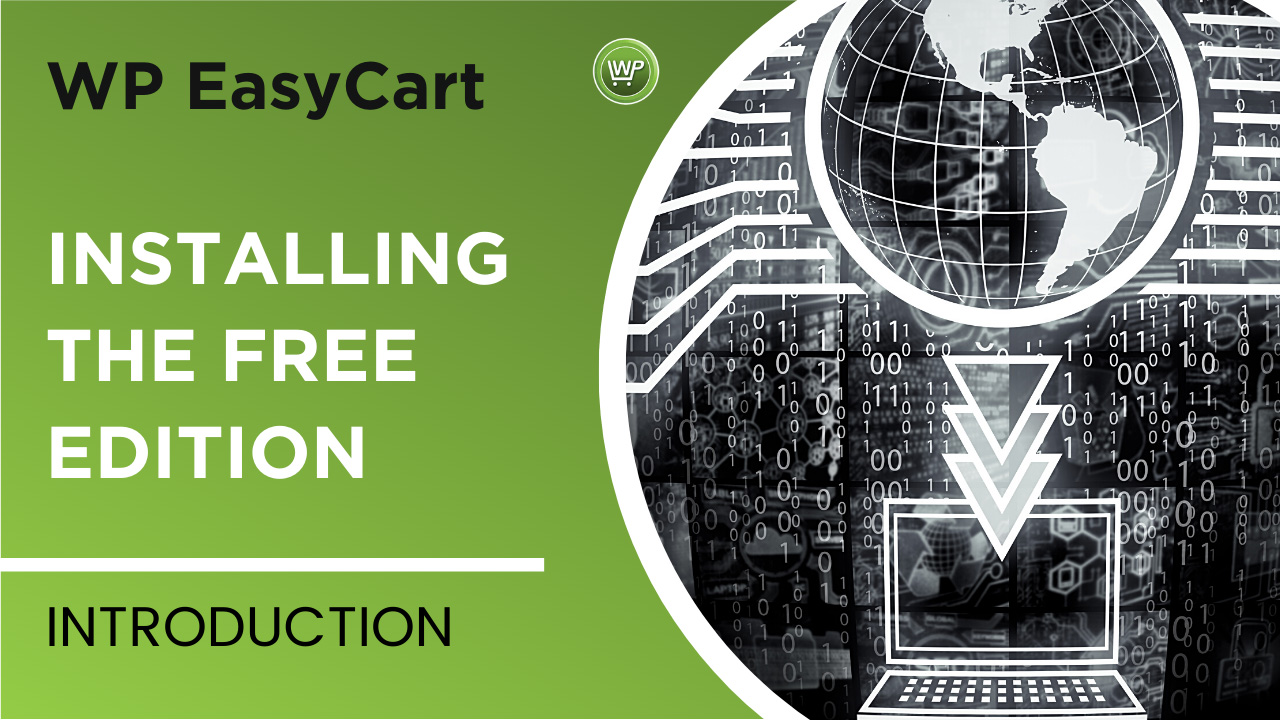 Download the free plugin from WordPress. It takes 5 minutes to walk through the 5 step wizard and be up and running with full eCommerce shopping cart in your WordPress today.
View All Videos Here
Video Guide – Installing the Pro Trial Edition

Try the Professional Edition 14 day trial for free right from your WordPress. No credit card or information required, just install and unlocked the PRO edition and it's features for FREE.
View All Videos Here
Installation Method 1 – Install Directly from your Site
There are 2 methods to download and install the WP EasyCart. The first is to simply log into your WordPress admin console for your website and navigate to the plugins -> Add New. Search for 'EasyCart' and click install. This is the simplest and easiest method to download and install WP EasyCart.
Installation Method 2 – Download from WordPress.org
Visit www.wordpress.org -> plugins and search for 'EasyCart'. From here you may download the .zip file that contains EasyCart. Once you have the software, you may log into your WordPress admin -> Plugins -> Add New. Press the 'Upload Plugin' button at the top of the page and upload the .zip package you downloaded from WordPress.org.
WP EasyCart FREE Plugin Activation
Once installed, you should 'activate' the plugin by pressing activate. You can view all active plugins in your WordPress admin -> Plugins section of your website. During activation, EasyCart will construct all of the database tables, construct file and folder structures, and configure necessary settings to run on your server.
WP EasyCart Setup Wizard
Once installed, you can walk through the 2 minute installation wizard that will help you configure your taxes, shipping, payment gateway, and get you started to setting up your first product.
You may choose to setup later this wizard, but it is a nice way to setup your necessary 3 pages to get started (store, cart, and account pages) and to also get initial settings right. We recommend you walk through this process, and at anytime, you can go to the settings directly and edit your taxes, shipping, and payment setup as well.

WP EasyCart PRO – Automated Installation
WP EasyCart can automate the installation of the Pro, Premium, & Trial systems for you.
To install a free PRO trial for 14 days, simply use any of our banners to start the automated installation and activation of a trial. You must have the main core plugin installed above to see these banners all around the WP EasyCart admin console.
Once you start the trial installation, it will download and install as shown below. Simply click the 'Click Here to Complete Installation' button and it will activate your 14 day trial Pro edition.
Trouble installing during our automated installer?  You may also download the pro trial plugin directly here.  Just go to your WordPress Plugins -> Add New -> Upload button and directly upload this .zip file to install the Professional plugin and it will begin your 14 day trial.
If you would like to upgrade to the Professional or Premium edition, simply visit your registration page to start this process. You can easily go from FREE -> Trial -> Pro OR Premium from your registration page anytime.
No data is ever lost when you upgrade or go from a Trial -> Pro or Premium. We simply unlock your site to give you the platform you need.
If you purchase directly from our website a Professional or Premium edition, you can also manually install your .zip plugin file and register here on our registration page.
WP EasyCart PRO Manual Installation
WP EasyCart PRO is installed ALONG SIDE WP EasyCart, which was installed above. WP EasyCart PRO and your license key will add all the features that are locked in the WP EasyCart FREE version.
This guide assumes you have already purchased WP EasyCart PRO OR started a FREE TRIAL here. If you started a trial, WP EasyCart PRO plugin can be downloaded directly from your trial success page or the email sent to you when you started the trial. If you purchased WP EasyCart Professional or Premium, the WP EasyCart PRO plugin can be downloaded from the order success page, email receipt, or from your WP EasyCart account here.
The download will be a ZIP file, which is installed through your WordPress Admin -> Plugins area and the manual plugin upload feature. If you are unfamiliar with installing a plugin as a ZIP file, this will help guide you through the installation. Once installed, updates will be done automatically just like any other plugin. Some notes before you begin:
If you download with a MAC and Safari, your computer settings may automatically unzip the download. In this case please:

Open Safari
Click Preferences
Under the General tab, uncheck the option Open Safe files after downloading
Then re-download the plugin

If your server has a difficult setup or more tight security options, you may have to upload the file using FTP access or through a file manager tool. If this is your situation, the entire wp-easycart-pro folder, found within the zip, can be uploaded to your wp-content/plugins/ folder.
INSTALLATION:
Navigate to your WordPress Admin -> Plugins
Click "Add New" at the top of the screen
Click "Upload Plugin" at the top of the screen
Click "Choose File" in the box that opened up
Find the wp-easycart-pro-x.x.x.zip file that you downloaded on your trial start or plugin purchase. Select the ENTIRE ZIP FILE, NOT THE PHP FILE INSIDE.
Click "Install Now" to upload the zip, WordPress will extract this to your WordPress plugins folder.
Click "Activate Plugin" to complete the installation, you will be redirected to the WP EasyCart registration page at this point.